California Gold vs Caribbean Gold
Who doesn't want to see some gold when they're playing online slot games? We know we sure love it when it pops up in the slots we play . Of course, you won't win any real gold when you're playing these games, but it can lead you to some coin wins if you're lucky.
Lincoln Cash has a couple of great gold-themed games for you to try if you're up for it. Which one of these two, California Gold or Caribbean Gold , will hit the spot for you?
California Gold
Better yet, you also get an opportunity to try and win your way through to some free games. You'll need to dig up some gold nuggets to win these. You get some assistance from the miner though, as he appears in the game as a wild icon. He will also unlock the Mad Miner Bonus if he appears on the second, third, and fourth reels. Pick a mine and see what happens next!
Caribbean Gold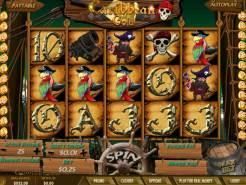 You may not guess from the name, but this slot is based on a pirate theme. That means you can expect to meet some colorful parrots, some angry pirates, and other elements too, such as cannons and the skull and crossbones.

A compass is used as a substitute icon, while the treasure chest is a scatter. If you can find three or more of these in play, you will get the chance to find two matching chests to unlock 10 free games. Choosing the chests will trigger a multiplier to be used during those games. There is also a random bonus that lets you go in search of buried treasure.
Our verdict: Which game is best?
This is a tough choice! Both games are very appealing and present us with a lot of fun. Since we must pick a favorite, we'll choose the Caribbean Gold title, simply because you never know when the Buried Treasure bonus could appear. That alone makes every spin more exciting.
But don't let that deter you from playing the California Gold slot, since this also has some great elements involved. Why not try both and see whether you've got a favorite?